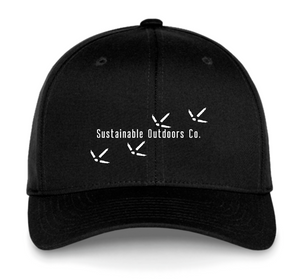 SOC Fitted Hats are perfect for any occasion. Wear the SOC Turkey Season logo proudly as you partake in hunting or scouting for wild turkeys!
*$2 from the sale of this hat will be donated to conservation.*
Fitted hat
Premium wool blend fabric

Structured
At Sustainable Outdoors Co. we choose manufactures that are socially and environmentally responsible. This manufacture has a strict environmental management system in place with annual audits to make sure all practices are following environmental laws. The system manages efficient water use, wastewater discharges, energy consumption, chemical handling and storage, raw materials, biodiversity protection, emissions and waste generation. They also have great social polices in place to offer excellent working conditions that make an ethical workplace.
Our items are printed/embroidered in Canada.