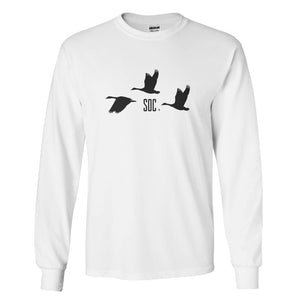 Product Description:
Our men's long sleeve tee is designed to tag along on every wild adventure you partake in. Let the cold winds blow because our long sleeves will keep you toasty.
Made from 6.1 oz., pre-shrunk 100% cotton
Natural cotton provides the warmth that's needed on wintery days
SOC Logo screen printed graphic
*$3 from the sale of this item will be donated to the Canadian Conservation Organization of the month.
Additional Info:
At Sustainable Outdoors Co. we choose manufactures that are socially and environmentally responsible. This manufacture has a strict environmental management system in place with annual audits to make sure all practices are following environmental laws. The system manages efficient water use, wastewater discharges, energy consumption, chemical handling and storage, raw materials, biodiversity protection, emissions and waste generation. They also have great social polices in place to offer excellent working conditions that make an ethical workplace.
Our items are printed/embroidered in Canada